{Contemporary}
Contemporary and modern kitchen are difficult to distinguish between. For a kitchen to be contemporary, it needs to include the latest designs, technology, trends, and materials. Here are some features of a contemporary kitchen:
APPLIANCES:
Today's world revolves around technology. Everybody is looking to have the latest and greatest phone, computer, or car! A kitchen in today's world is no different. Contemporary kitchens have sleek, stylish, and high-functioning electronics. From built-in coffee makers, to induction cooktops, this styled kitchen includes the latest and greatest technology and appliances.
MATERIALS:
This style of kitchen is known to have all sorts of materials. From concrete to glass materials, to natural stone materials, like quartz, there are more options than every before for homeowners.
BACKSPLASHES:
Backsplashes are found in a variety of kitchen styles, including contemporary styled kitchens. The difference in this style of kitchen is that there is a lot of pattern. Backsplashes are made of glass, stone, and ceramic tiles allowing the homeowner to express themselves through their kitchen. In addition to the backsplash material, homeowners can choose how they want their tiles to be places against the wall. The tiles can be placed in a grid-like fashion or in a basket-weaving pattern.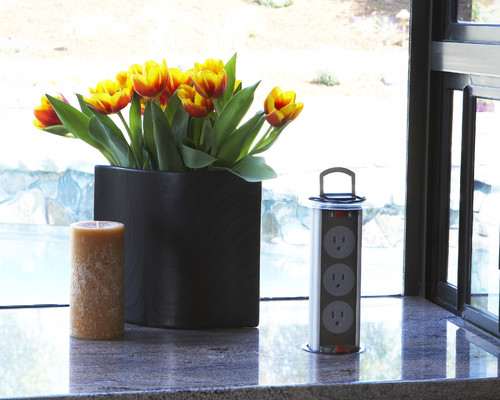 ACCESSORIES:
Aluminum appliances, hidden outlets, improved storage solutions, and dramatic decorative lighting are all features found in contemporary kitchens. This type of kitchen is meant to increase productivity by making outlets and appliances more accessible throughout the kitchen.
PATTERNS:
Pattern, pattern, and more patterns! This kitchen is all about mixing it up including anything from different types of wood to different surface sizes and levels. Various types of light fixtures and cabinet finishes are no exception to this kitchen; this is a type of kitchen where (almost) anything goes. However, don't mistake this style of kitchen for a cluttered mess! Contemporary kitchen are equally known for making a kitchen look sleek, modern, and luxurious at the same time.
DECORATIONS:
Decorating a kitchen goes beyond appliances and countertops into chairs, lighting, accessories, and more. Whether you want to add a sparkly chandelier or a colorful bar stool, the options are endless.